Coworking pricing is key to understanding the industry climate and strategy for landlords, flexible office managers, brokers and commercial operators, as well as workers. Current price per desk in flexible workspaces is a per month metric which allow us to track rate evolution.
We review August 2021 prices across world regions and the evolution of US rates.
Coworking pricing: monthly desk rate by region
Our below map lays out the August price per desk for coworking spaces across continents.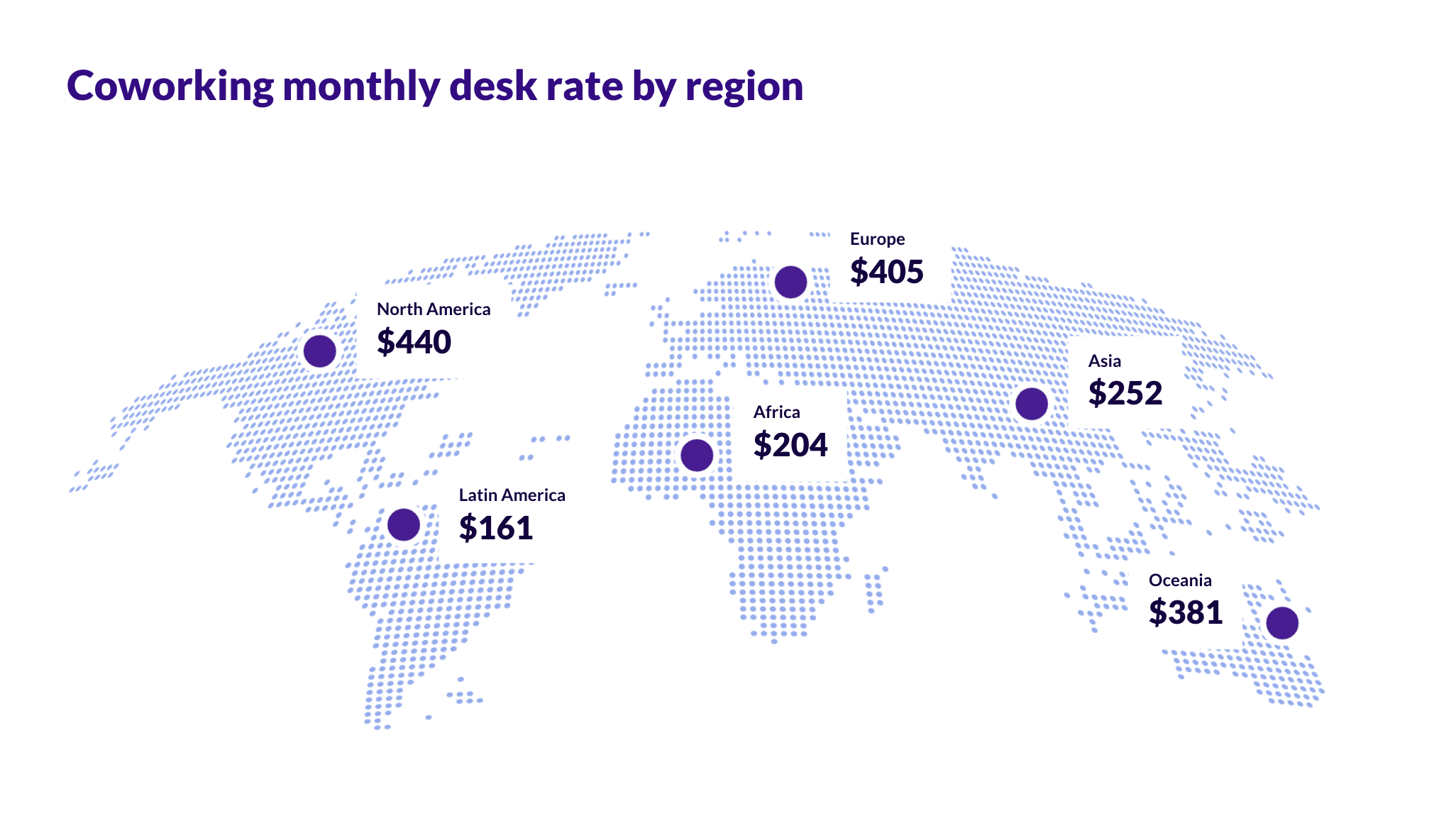 All rates are in American dollars (USD), and show that more developed flexible workspace locations pull a higher price tag. North America punches highest with a current monthly desk price of $440 - a huge 173% higher than neighbour Latin America.
The range of monthly desk prices is of course partly a result of vast differences in living costs and salaries from continent to continent. However, it is also a testament to how evolved the concept of coworking and flexible workspaces is in each location. Coworking pricing is a good way to gauge the acceptance and supply and demand for shared workspaces.
Europe and Oceania are not far behind North America on $405 & $381. Australia was one of the early adopters of coworking, with the first 'official' space opening in 2006. The UK and US were even earlier, with flexible office launches in 2005.
The evolution of coworking pricing
Pricing is very nuanced, and always a see-saw with occupancy. Looking more closely at prices of coworking spaces in the US, rate evolution also tells a story.
It's clear to see that there is a downward trend, with coworking prices per desk month dropping by 6% over the last year.
What might feel alien is accepting that this is not only natural, but positive. Just think of commercial flights (and probably next commercial space flights...). As concepts become more widely accepted, and supply creeps up, spaces become more accessible, better served and competition grows.
Further, as the operational model is practiced and made more efficient and cost effective, margins move in the right direction and cost can be depressed. Coworking spaces have yet to reach that critical mass where demand outstrips supply and prices begin to climb again, but rest assured; it's coming.
---
Coworking data
Data on pricing is just one key element of strategic visibility: Coworkintel bring operators, landlords and brokers a full array of insights to make optimal strategic decisions. Visit coworkintel.com for more information & our latest report on coworking social media.