Coworking brand WeWork has seen its shares soar upon its long-awaited IPO, which started trading on October 21st. Crucial questions at this time centre around what position WeWork hold within the sector, how have they grown and evolved, and what impact they've had on the flexible workspace industry as a whole.
You might remember a previous failed IPO attempt under ex-CEO and co-founder Adam Neumann, which, whilst accompanied by a whopping $47 billion valuation - pushed by private investors, was fairly swiftly followed by reports of near collapse. That WeWork was losing hundreds of thousands of dollars an hour and unsurprisingly, the offering was shelved and so was their CEO. The ensuing maturation of WeWork from disruptive toddler, to the shrewd and trailblazing brand of today, has led it to this point: an actual IPO with a new, more than realistic price tag of $9 billion.
So, what does the data tell us about where WeWork are, how they have evolved and how they have helped to shape the industry?
Where is WeWork in the world of coworking?
In a world where the concept of remote working is becoming more widely accepted and actively pursued, coworking spaces are positioned for the biggest growth period in their history.
The industry is growing month on month, reaching 15,000 spaces worldwide this year. This expanding inventory is largely shared by a handful of dominant brands; and WeWork (>7% of global spaces) ranks second only to IWG, whose Spaces initiative continues to grow into their more commercial Regus arm.
Coworking Supply
Yet, the 'humbler WeWork' narrative, fueled by a more conservative CEO and the small matter of a worldwide pandemic, has some basis in data. WeWork's portfolio, whilst still a dominant force, has scaled back 12% since May of this year.
While the number of brands in the sector is up 5% globally, the aforementioned pandemic has made itself known amongst other top companies and WeWork is by no means singing its own tune, with the vast majority of top brands taking this line.
Coworking Pricing
Meanwhile, as competition grows with brands and spaces, and awareness drives demand, prices are falling to more accessible levels.
Worldwide, average desk pricing in flexible workspaces has fallen by 6% worldwide. WeWork meanwhile may have dropped their rates by 12% on average, but this rate stabilised to $519 in October, compared with $307 across global inventory.
Social Brands: WeWork lead the pack
Another thing to consider is the other kind of brand value. WeWork has been second to none at building a brand - a brand ringing loudest in the ears of the social media generation also growing into a remote-working culture.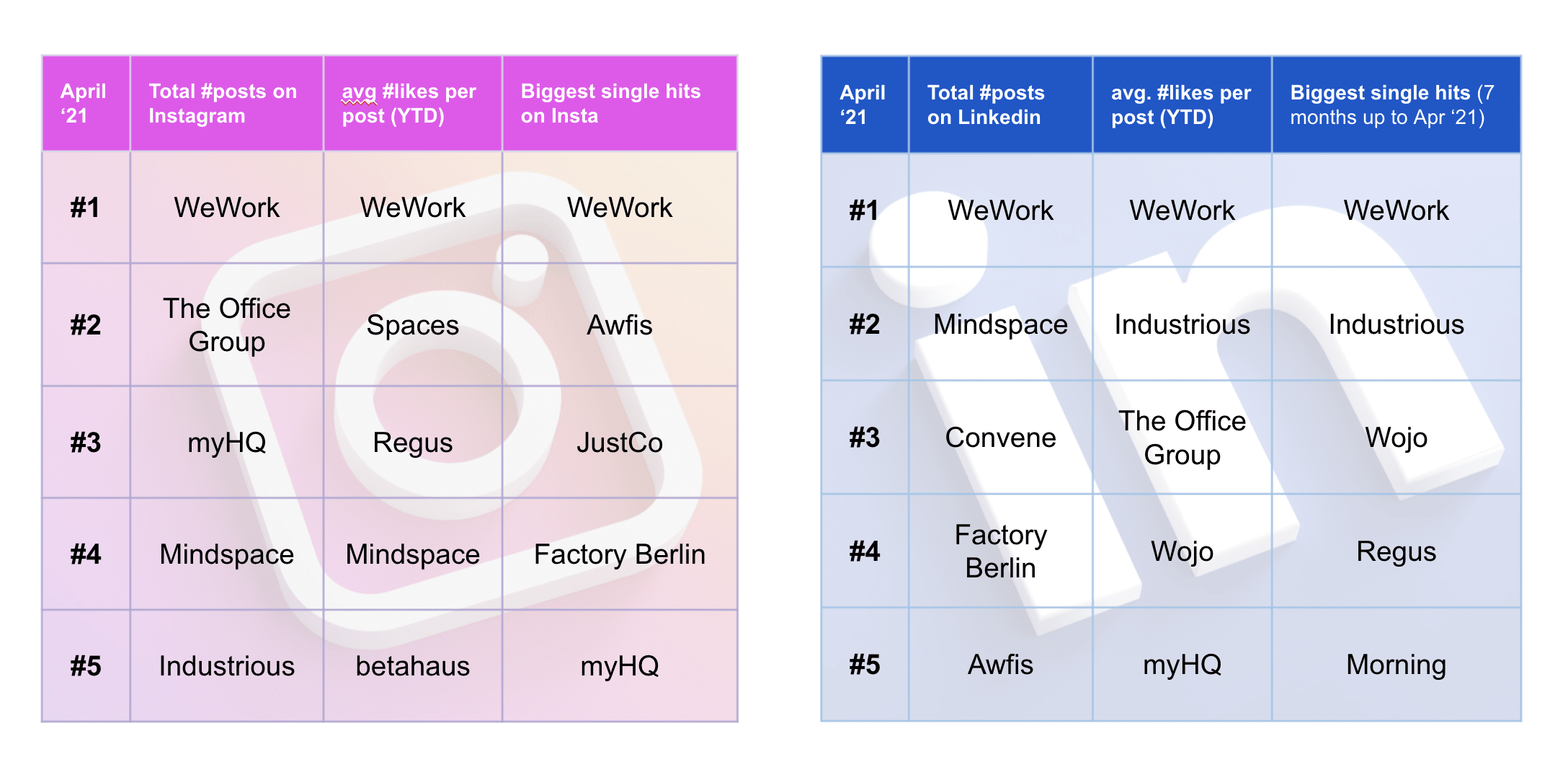 WeWork top the rankings for number of posts, number of likes and biggest hit on both Instagram and Linkedin.
This growth in awareness and recognition can be tracked through web visits, with a 7% growth in traffic for WeWork.com in the last 6 months. An interesting feature of this traffic evolution, however, is it's geographical shift. Over that same time period, US traffic has fallen while visitors from the UK, South Korea and Mexico have increased.
WeWork continue to push their brand presence and stamp their authority on flexible workspace strategy, and this IPO marks a coming of age moment for industry and brand alike.
---
For more on how CoworkIntel data can help operators, investors & brokers grow & succeed, visit coworkintel.com.